The Memos were born in the suburbs of Omaha, NE in the late 1970's. Like many bands, The Memos developed out of a number of "garage bands" over the period of 1976-1979 as members came and went and they became more serious and saw music as a viable option for their future. The original lineup came from the band "Variety" in 1979 and consisted of Dana Schmitz on guitar and vocals, Tom Wilde on bass and vocals, Jim Behrens on guitar and backing vocals and Dave Valdez on drums. In the fall of 1979 they decided on a name change to "The Memos" which fit more with their evolving style and the direction that new wave music was influencing the market. The first official gig as The Memos was on New Year's Eve 1979 going into a new decade at "The Prague" in South Omaha, NE.They had made a decision to move to Boston but Dave and Tom were still in high school so Jim moved in March of 1980 to pave the way, scout the area and lay the groundwork for the eventual move. The original Memos performed on 7/3 & 7/4 of 1980 at the Methuen, MA and Salem, NH fireworks celebration. These would be the last official performances of the original lineup. Tom had decided not to move to Boston and pursued other interests. Dana and Dave eventually moved to Boston by the winter of 1982. Dave had been back and forth between Boston and Omaha twice and moved permanently in 1981 where he and Jim auditioned bass players for the future.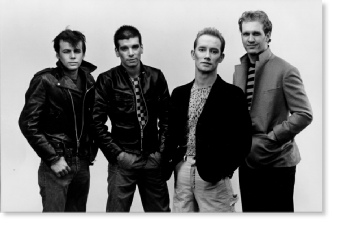 In the winter of 1983, they recorded their first demo tape at Erick Preston's (of Erick Preston's Purple Haze) studio in Lawrence. In total they recorded 13 original songs and released a 2 track tape to the radio stations. They made the WCOZ playlist with a song called "Trend". Like most 4 track demos, there wasn't much overdubbing, so what was there was what The Memos sounded like live. During this time The Memos played the famous "Rat" on Saturday night March 5th and recorded it and included one selection on the demo released to radio stations. The Memos continued to play numerous live shows at colleges and clubs throughout 1983 developing a strong fan base and reputation as a quality opening act as well as very capable of headlining and at times even "stealing" the show from other groups with their high energy and catchy original music.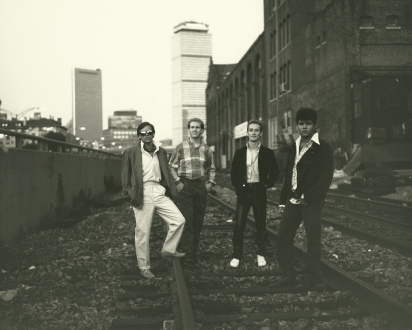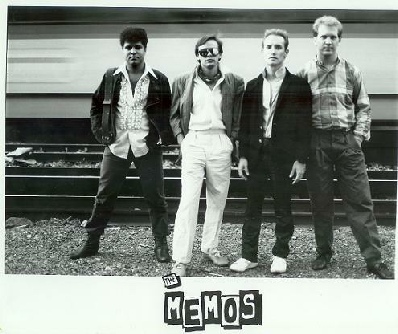 In November of 1984 they auditioned more bass players and found one in Alex (LX Austria) Rodriguez. Alex was a kid from Lawrence who had seen them play at one of the neighborhood bars and had the same musical tastes as they did. In fact the story he told was that one day he would be in that band after seeing them perform.The first official gig with Alex was over New Year's 1985 in Calais, ME.
It was when Alex came into the band that they started concentrating on original music again. Alex was a songwriter and singer as well, so it added more material to what they already had. They also changed booking agencies and started working with Pretty Polly Productions out of Boston. They started playing lots of colleges and larger clubs, for better money.
The Memos went to Eastern Sound in February of 1985 and recorded a 45rpm for release entitled "Childsplay" b/w "Drag me Down". Childsplay is a straight ahead rock and roll song while Drag me Down was a ska tune. At this time the band still did some opening gigs, mostly on Friday or Saturday nights with bands like, 'til Tuesday, Digney Fignus, New Man and others.
In the fall of 1985, The Memos rented recording equipment and recorded 11 original songs as a demo under the production of long time sound man Emile Chodakowski.
The band had garnered some interest from West Coast record companies and performed a showcase in front of executives at "The Casbah" in Manchester, NH during the summer of 1985. Things went well and a trip was made to the West Coast to try and work out arrangements with a producer but he was not available until later in 1986.
Shortly after this, Alex made a switch to guitar and Jim moved over to bass. Things were looking good, when Alex announced that he was leaving the band for a solo career. That was probably the straw that broke the camel's back and the band fell apart from there. After 7 years together, The Memos split up. The three core members of the band have kept in touch over the years and reunited for a jam session in September of 2011. The Memos music stays alive through this website and new selections are posted monthly including music from the earliest days in Nebraska to bands that grew from the remains of the original band.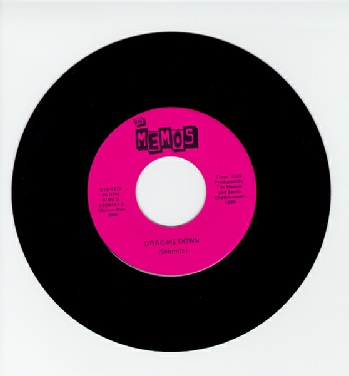 Mike Sheehy became the bass player for the band in 1982 just before Dana's arrival and rehearsals began in earnest in the basement of Caron's liquor store on Broadway in Lawrence, MA. The band's first official performance was on April 10, 1982 at Vic's Rock Castle in Lawrence, MA. The band spent time cutting their teeth and polishing their act in small bars and clubs in Lowell and Lawrence, MA as well as writing original music in preparation to hit the clubs of Boston. The band entered a local "Battle of the Bands" contest at a club called "The Raft" in June of 1982 and went on to win their preliminary round and advanced to the finals. While they didn't win the overall competition, it was a success on many levels including establishing a relationship with Rockfever productions who would become their booking agency for the next few years and winning a photo session with Andy Swain who was responsible for their first professional promo shots.
Once the band felt they were ready to move from the small clubs they began to play the essential clubs of Boston like Cantones, Jack's, new music nights at The Channel, The Rat, and Inn Square Men's Bar just to name a few. They gradually moved from new music nights to opening acts on weekends, while in the meantime continuing to play the clubs in the Merrimack Valley. Playing original music in Boston and supplementing those gigs with some cover gigs in the suburbs helped to support the dream. Funding was difficult for three transplants from the Midwest to Boston and it took a lot of help from new friends to make it happen. The Memos original music consisted of many styles, including: ska, reggae, rock and pop. One of the clubs that embraced them was The Raft in Lowell. The band was booked to support many of the big acts from Boston during 1982 and 1983 and started getting their own headlining nights which were usually on a Thursday. They played with a lot of great Boston bands including; The Stompers, Jon Butcher Axis, The Fools, The Neighborhoods, The Atlantics, Lou Miami and the Kozmetix, The Trademarks, Primary Colors, New Models, Robert Ellis Orral and one of their all time favorites, The Angry Young Bees.
In the fall of 1983, the band went to Oceanus in Scituate to record a new demo. This time they only recorded 5 songs, but came up with a much more polished result. There was a "ghost" keyboard player on a few of the tunes who did a great job, especially on the song about a line every guy hates to hear, "You're a Nice Guy, but". They also recorded another staple of their live shows, "Happy with my Haircut", which is a nice little ska/reggae tune that when played for people today, is still enjoyed very much.
In the spring of 1984, Mike decided to leave the band and eventually joinedThe Mighty Charge. The band had to act quickly to be able to cover the growing number of shows that were booked. Cindy Morin joined the band as their new bass player and they set off on what was the busiest calendar they had seen up to date. The shows were mainly 3-4 night stands in clubs in Maine, Vermont and New Hampshire and were cover gigs. These proved to be very instrumental in improving their musicianship and stage show. What was lacking however were the gigs that would showcase their original music. Cindy left the band in the fall of 1984 and was replaced by John Woodman "Woody", who filled in until a permanent replacement could be found.